Poker Rooms – The Flamingo Hilton, Las Vegas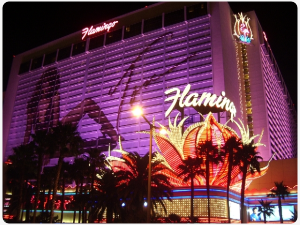 Are you thinking Bugsy Siegel? Maybe you were thinking Clark Gable or Lana Turner? Or, Conrad Hilton? If you were, you're way off base. When the Flamingo was sold to Harrah's corporation at the beginning of this millennium all of that glitz and glamour went right out the window. What's left is an ordinary, run-of-the-mill Strip venue that could be cleaner, could be classier, and could be better all around.
What didn't change at the Flamingo along with the ownership is the Poker Room. It's still cozy, still well-run, and still one of the friendliest poker rooms in town.
With about 10 or 12 tables, most of which are in operation daily, the room has an open bright look that is right off the Strip entrance and close to the deli. The room has a low railing that allows curious bystanders to look in and assess the action without having to sign up or make a commitment. This room has been around a lot longer than most of the poker rooms at neighboring Strip casinos and the dealers are long time employees. I have played there year after year for the past 10 or 12 years and the same dealers have thrown cards my way all that time. A new dealer stands out but seems to be welcomed by both the clientèle and the staff.
The friendliness of the dealers extends to the banter that goes on at any of the low limit tables ($2/$4). Within a few visits you'll know who has a vacation coming up, who stunk up the golf course the week before, and whose feet are tired and in need of a rest. This is not a high-powered gambler's venue. It's low key and fun.
There are tournaments every day for small buy-ins ($50 – $60) that generally fill two or three tables. They have all sorts of bonus jackpots including ones for Aces cracked and high hands. There's also a $2500 Bad Beat Bonus jackpot that, at one time, was played in concert with other Harrah's casinos. Only those playing in cash games are eligible and one afternoon I watched a local older guy get up from a cash game to play in the tournament I was entered in, only to miss someone hitting the Bad Beat moments later. He missed out on splitting about $1000 with the rest of the table and he let the management know about it. Everyone smiled and life went on!
If you're looking for an unstressful game of poker in a pleasant atmosphere, try the Flamingo Poker Room. I think you'll like it.