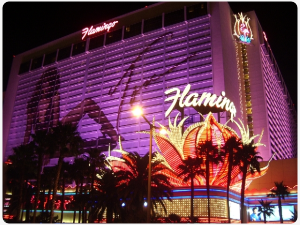 Are you thinking Bugsy Siegel? Maybe you were thinking Clark Gable or Lana Turner? Or, Conrad Hilton? If you were, you're way off base. When the Flamingo was sold to Harrah's corporation at the beginning of this millennium all of that glitz and glamour went right out the window. What's left is an ordinary, run-of-the-mill Strip venue that could be cleaner, could be classier, and could be better all around.
What didn't change at the Flamingo along with the ownership is the Poker Room. It's still cozy, still well-run, and still one of the friendliest poker rooms in town.
With about 10 or 12 tables, most of which are in operation daily, the room has an open bright look that is right off the Strip entrance and close to the deli. The room has a low railing that allows curious bystanders to look in and assess the action without having to sign up or make a commitment. This room has been around a lot longer than most of the poker rooms at neighboring Strip casinos and the dealers are long time employees. I have played there year after year for the past 10 or 12 years and the same dealers have thrown cards my way all that time. A new dealer stands out but seems to be welcomed by both the clientèle and the staff.