The Atomic Testing Museum is an attraction in Las Vegas with a twist. This alternative Museum allows guests to step into the history books and re-live events first hand. The 10,000 square foot Atomic Testing Museum holds a host of real equipment from the old testing site, in addition to a plethora of educational displays, timelines and interactive objects. The museum recreates the testing site and even provides an area for guests to mess around with some high tech gadgets, including the ability to test your own radioactivity.
An affiliate of the Smithsonian Institution, this grand Museum is designed to represent the Nevada Test Site (NTS), which was active in the 1950?s. Situated just 65 miles outside of Las Vegas, the Nevada Test Site performed over 900 nuclear tests across four decades. The site, which played a big part in the Cold War, was visible from Las Vegas and casinos in the 1950?s even offered players seats that faced the site to witness these tests first hand. Now shut down, the Atomic Testing Museum is a pilgrimage to this famous testing site and now holds its history in 10,000 square feet of Museum.
Inside the Museum you will find all sorts of interactive stalls, objects, facts and even testimonies from on-site workers, allowing you to gain a better perspective of the test site. The Museum is an educational masterpiece, providing touch screens that answer the most popular questions such as – Why Nevada as a place for nuclear testing? And what impact did this have on Las Vegas? The Museum answers these questions and many more while providing questions with an interactive learning experience that is fun for everyone.
There is all kinds of media available at the Museum, ranging from photos of thermonuclear explosions to footage of frightened people witnessing from miles away. The history of this famous test site is covered in depth, as are certain tests, including the "Bravo" hydrogen bomb.
However, the highlight of the Atomic Testing Museum has got to be the 10-minute movie, which is held in the Ground Zero Theatre. This interactive movie gives an amazing history while providing guests with a real-life bunker experience. The theatre, designed to look like a bunker, contains seats that blast you with air and vibrations while watching the movie. This is a great experience and highly recommended while visiting this Museum in Las Vegas.
Even if you are not a huge history fan, or the Atomic Testing Site does not interest you, the contents of the Atomic Testing Museum will keep you entertained for hours. The interactive stalls are both interesting and informative, keeping your interest up by providing great interaction. The photographs and real life film footage is shocking and something that should defiantly be viewed while visiting this famous Las Vegas attraction.
Opening Times and Prices
The Atomic Testing Museum is open to the public Monday-Saturday from 10:00 a.m. – 5:00 p.m. The Museum is also open Sunday from 12:00 p.m. – 5:00 p.m. The Museum is closed on Thanksgiving Day, Christmas Day and New Year's Day.
The cost is $14 for general admission. There are discounted rates for seniors, students, children and military personnel with proper identification. The Museum takes cash, MasterCard and Visa as forms of payment.
Voted the best steak house in Las Vegas, Charlie Palmer steak is famous for its juicy cuts of steak perfectly cooked by master chef Steve Blandino. In true Las Vegas style, Charlie Palmer Steak adopts the slogan "when big just isn't big enough" with all their food. Highly reviewed and recommended by all who dine here, you will not be disappointed with the large range of meats, excellent service, prime location and stunning surroundings.
Charlie Palmer Steak Restaurant offers some of the finest foods you will find in Las Vegas. If big, juicy steaks are your cup of tea then Charlie Palmer Steak Restaurant is certainly for you. The Colorado Rack of Lamb comes highly recommended, expertly prepared, mouth watering and delicious. The range of cuts and meats available at Charlie Palmer Steakhouse is truly staggering. The Certified Black Angus steaks, which are dry-aged for 28 days, are some of the finest cuts you will find, fresh, juicy and delicious.
The atmosphere inside Charlie Palmer Steak Restaurant is social and inviting. Intended to provide a clubhouse atmosphere, the staff are friendly and knowledgeable, with a great knowledge of their foods and drinks. Ask the staff as they seat you what dishes they would recommend and you are almost always going to come out with a winner. Some suggestions might include the Charcoal Grilled Fillet Mignon with Roasted Shallot Jus, another signature dish at Charlie Palmer Steak Restaurant that is as close to perfect as you can get. Juicy meats grilled to perfect accompanied by a Jus that combines to provide a melt in the mouth dish.
The staff are polite, helpful and friendly at Charlie Palmer. Once you have made your way through the large, diverse menu and found a dish that makes your mouth water at the thought, you will need a delicious wine to wash it down with. Charlie Palmer Steak does not fail to deliver, specializing in a range of Pinot Noir wines from along the West Coast and Europe. A selection of Cabernet wines is also available. But above all, the "Wines for the adventurous" gives a little spice to the meal.
With amazing food and drink, you would think there might be a slip with the decor or location, but you would be wrong. The atmosphere inside Charlie Palmer is brilliant, sociable, warm and inviting, as is the decor. The room is large, open and inviting, using a mix of warm tones and materials to welcome guests to this famous restaurant in Las Vegas. Mahogany panels and archways are utilized to provide that intimate, social atmosphere that Charlie Palmer was looking for in their design. There are plenty of tables available, and even a lounge that allows guests to enjoy a cigar or two following their meal! The location is perfect and handy. Located at the stunning Four Seasons Hotel in Las Vegas, guests of the hotel can enjoy this great restaurant on their doorstep.
The menu is ever changing with the seasons, allowing only the best, freshest cuts of meat to be in at any time. The wide-ranging menu even includes a stunning Surf n Turf option during certain seasons. This traditional combination pairs up the juicy 8oz fillet mignon steak, perfectly grilled, with roasted lobsters to tantalize guest's taste buds. Costs at Charlie Palmer can vary dependant on the time that you go. The budget menu can be found on Sundays, where "Sunday Suppers" provides a gorgeous 5 course family meal for $48.
Charlie Palmer Steak Restaurant is the perfect location to enjoy a great meal that will fill up even the largest of stomachs. The incredible cuts of meat are expertly grilled by very talented Chefs, creating dishes that are rated as some of the best in Las Vegas. The atmosphere inside is warm, friendly and inviting and the staff are friendly, helpful and knowledgeable. Prices can range dramatically, but if you are looking for value then Sunday Suppers is your best bet, where you can enjoy a great family meal accompanied by some live music performed by the in-restaurant pianist. If you enjoy large, juicy steaks cooked perfectly and enjoyed in a great atmosphere then Charlie Palmer Steak Restaurant is certainly for you.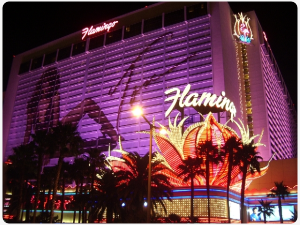 Are you thinking Bugsy Siegel? Maybe you were thinking Clark Gable or Lana Turner? Or, Conrad Hilton? If you were, you're way off base. When the Flamingo was sold to Harrah's corporation at the beginning of this millennium all of that glitz and glamour went right out the window. What's left is an ordinary, run-of-the-mill Strip venue that could be cleaner, could be classier, and could be better all around.
What didn't change at the Flamingo along with the ownership is the Poker Room. It's still cozy, still well-run, and still one of the friendliest poker rooms in town.
With about 10 or 12 tables, most of which are in operation daily, the room has an open bright look that is right off the Strip entrance and close to the deli. The room has a low railing that allows curious bystanders to look in and assess the action without having to sign up or make a commitment. This room has been around a lot longer than most of the poker rooms at neighboring Strip casinos and the dealers are long time employees. I have played there year after year for the past 10 or 12 years and the same dealers have thrown cards my way all that time. A new dealer stands out but seems to be welcomed by both the clientèle and the staff.
It is difficult to replace the old Las Vegas, as the new Vegas continues to add on to or renovate its impressive suite of hotels.
The Hard Rock Hotel and Casino
This Las Vegas hotel is popular for its casual atmosphere and dressed-down demeanor. It possesses a great history of drawing rock stars, celebrities and movie stars towards it, who sport guitars, tattoos and groupies. The hotel focuses now on attracting wide clientele, which likes to party along with the younger, hipper and trendier crowd. This hotel rose to popularity for doing slightly different things such as charging premium fee for the alcoholic beverages instead of offering free alcohol to people playing games at the gambling table. It also positioned the bar in between the gambling space. New owners of The Hard Rock Hotel and Casino have certain renovation plans for it during which the bar and pool area will be open as usual. Remodeling of the hotel includes adding two more towers, which will total up to 1100 rooms finally. The renovation plan even includes addition of spaces for fresh meeting halls and convention rooms, restaurants, spa, gambling areas and concert area as for entertainment and live bands.
Las Vegas, the sand city and also called the "World's Entertainment Capital" has everything for everybody. From cheap, inexpensive hotel rooms to the expensive, indulgent and lavish shopping malls, Vegas has it all.
The Las Vegas Strip is the best attraction in Las Vegas. The Strip is known for its luxurious hotels and casinos. One of them is The Bellagio Hotel.
The Bellagio is the best place for entertainment shows worth every dollar spent. It also has the Bellagio Water Fountains presenting the best in water shows. Swirls and sways synchronized to background music ranging from classical to punk along with the most popular part, where the water shoots hundreds of feet into the air.
There is also the Bellagio Gallery of Fine Art. This Gallery has the most breathtaking private collections of paintings contributed by art museums from around the world. The major pieces to be seen here include those from Andy Warhol, David Hockney, Monet, Pierre-August Renoir, Roy Lichtenstein, Alberto Giacometti, Keith Haring, Pablo Picasso and the famous Faberge Eggs from Kremlin.
The Bellagio is also one of the best places in Las Vegas for lavish as well as budget stays.
The Las Vegas Strip is the most popular street in Las Vegas, as it has some of the biggest hotels and casinos. However, downtown Las Vegas also has a street as a rival to the Strip.
This street is known as Fremont Street. The street is only for pedestrians, which makes it completely different from the Strip.
Many people gather at the Freemont Street for live entertainment shows. There is also a video screen, which boasts more than 12 million lights with a sound system of five hundred thousand watts.
On the westernmost part of the Freemont Street is the Freemont Street Experience. The Experience is a pedestrian mall, which is the best place for bargainers, who can get great deals here.
Another popular attraction in Las Vegas not around the Strip is the Hoover Dam. In fact, the history of Las Vegas originated from Hoover Dam. Millions of visitors throng the Dam each year, as it is the highest dam made of cement concrete in Western Hemisphere.
However, apart from all the above-mentioned attractions, the most desired attraction in Las Vegas is its nightlife. Without doubt, the most sought after place for nightlife in Vegas is the Strip. The best clubs and pubs in Las Vegas are around the Strip. Each has its own unique theme and designs.
These pubs and clubs are open till late night up to the early morning hours. The most popular of them are TAO in The Venetian, XS at Encore, The Bank in the Bellagio, Pure in Caesar's Palace, Rain in the Palms, Jet in the Mirage, Marquee in the Cosmopolitan Hotel, Haze in the Aria and LAX in the Luxor.
Your budget will never be an issue if you are planning a visit to Las Vegas, as the city has something for every class of people. Just take some time for research and you will find the best deals to reach and stay in Las Vegas.
Las Vegas, the sand city, is one of the most popular cities in America and is famous worldwide for its restaurants, shops, casinos and hotels.
The main factor that makes it so popular is the style of the city, which is very glitzy and glamorous. This element of the city is what enthralls the tourists and makes it so attractive for them.
However, Las Vegas was not the same a few decades ago, as it was a desert, landscaped with cactuses for miles, until it was radically over changed since the 1940s.
One of the oldest and most well known Chapels in Las Vegas, the Graceland Chapel has been a key part of the Vegas scene for over 50 years. Before weddings in Vegas really took off, the Graceland Chapel led the way in providing the best establishment for couples to tie the knot and has been on top ever since. Home to some of the most famous weddings in Las Vegas history, the Graceland Chapel has seen stars such as Jon Bon Jovi, Billy Ray Cyrus and even members of famous rock groups such as KISS and Def Leopard tie the knot here.
Weddings in Las Vegas are very big business, with couples coming from all over the world to experience a wedding in the city of sin. The Graceland Chapel has been at the forefront of this for over 50 years, providing the best ceremonies available on the Las Vegas strip. The fame that this Chapel has received has been amplified after it was featured in several blockbuster films such as "Fear and Loathing in Las Vegas" starring Johnny Depp and "When Fools Rush In" with Matthew Perry.
The service you can expect at the Graceland Wedding Chapel is second-to-none. All arrangements are taken care of and you are hosted with the best of care. Flowers range from traditional fresh flowers to more luxurious silk flowers. A limousine service is available and of course the whole ceremony is captured via an array of media. As with regular ceremonies there are professionally taken photographs including digital photography. The ceremony is also recorded and put onto DVD for your convenience and the ceremony can even be broadcast over the Internet if you have loved ones that wish to share this moment with you.
Inside the Graceland Wedding Chapel is very luxurious and beautiful you would not be disappointed. Ceremonies vary greatly dependant on your wants and needs. The Graceland Wedding Chapel caters to a wide range of clientele so there is no request that they wouldn't have heard before! The signature Elvis Wedding is popular among couples tieing the knot, where your special day can be hosted by Elvis himself in the city that never sleeps!
The Graceland Wedding Chapel has been a focal point of Las Vegas for over 50 years and is one of the main attractions that come into people's heads when they think of Las Vegas. The Chapel is beautiful and has a great history in this city, with numerous famous faces having walked through the Chapel doors. Weddings here can provide couples with that once in a lifetime experience, something that can be documented professionally as well as organized correctly by the Graceland Wedding Chapel. What better way to end a fantastic, unforgettable experience in Las Vegas than being married to the love of your life in front of Elvis himself? It doesn't get much better than this.
Considering that the best poker area in Las Vegas has a little over 700 tables anxiously awaiting for their poker fans, there is no denial that you have a lot of variety and places to choose from. I don't know about you, but I for one would love to actually play in a casino that I enjoy and that provides the best odds.
Unfortunately, most gamblers travelling to Las Vegas for a nice game of poker are forced to pick one of the following scenarios: either you play in a place you like and accept the poor odds or play poker in a bad location and actually make some cash. Well, it doesn't have to be like this!
When on a vacation in Las Vegas, there are manifold options available to decide for hotel accommodation. This is evident by the millions of tourists and visitors, who visit this city each year.
Nonetheless, if you desire to have a room, which offers a distinct combination of traditional hotel amenities and comforts along with the living style of apartments, then Budget Suites Las Vegas will be ideal for you.
These suites are meant for those individuals, who want a place to stay for a longer time, while they are in Las Vegas on tour or business purpose. Renting out a place will be full of hassles and very expensive, but on the other hand, these suites come at affordable prices. This is why they have become so popular over the time with people visiting the city for a longer stay.
You may be knowing very little about the hotels in Las Vegas, if you have not visited the place before. Moreover, you be even unaware of the fact that almost all the hotels in Las Vegas offer some exciting packages to all their customers. The prime motive behind this is to attract more and more customers. However, some packages may be a bit expensive, while the others are completely affordable. You need to choose a package depending on your personal requirement. Some packages include huge discounts on the food, while others offer a certain gambling amount that you can use at the hotel's casino.
With the intention to offer something different, some Las Vegas hotels also offer airfare vouchers in order to attract people, who wish to visit Vegas. If you are looking out for some special treatment, then you will have to shed some extra money. From a gymnasium to a swimming pool, these hotels offer their customers almost everything. These hotels are a bit expensive. However, if they do not fit your budget, you can also opt for semi-luxurious hotels. These hotels too offer some very interesting packages to their customers. The services they provide are enough to make you feel like a king.