Castaways Hotel, Casino and Bowling Center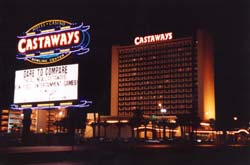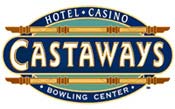 Castaways Hotel, Casino and Bowling Center is in Las Vegas, Nevada and is open 24 hours. The 74,300 square foot casino features 1,300 slots and nineteen game tables. The property has three restaurants and a hotel with 445 rooms.


Their bowling center is world-renown: at 106 lanes, it remains the largest in America and has hosted the Professional Bowling Tour since 1960. A 1,200-seat bingo parlor has an equally loyal following, paying out jackpots that are among the largest ever won in Vegas. A 80,000 square-foot casino boasts live keno, poker, craps, roulette and hundreds of slots. Two full-service restaurants, a coffee shop and a buffet serve hungry visitors by the boatload.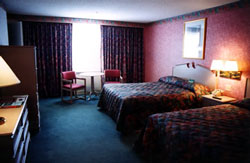 Birthdays come but once a year, but the Castaways's celebration doesn't know a calendar. Don't miss it.
Features:
Number of rooms: 445
Average room rates: $34-$48. Room rates can fluctuate widely and change without notice.
Casino size: 80,000 sq. ft. Casino games include Bingo, Blackjack, Craps, Keno, Poker, Roulette and 1,400 Slots.
Race & Sports Book: Yes.
Restaurants: San Brisas Buffet, The Prime Cut Steakhouse, Blue Marlin, and a 24-hour Pelican Rock Cafe featuring prime rib dinner for $6.95.
Entertainment: Windjammer Lounge features live entertainment nightly.
Pool: Yes
Health Club: No
Spa: No
Shops: Gift shop, Pro shop in Castaways Championship Bowling Center
Wedding Chapel: No
Parking Garage: Yes, more details.
Convention rooms: 8,300 square feet of meeting space. Yes, eight different sized rooms to choose from. T1 access available for meetings.
Business Center: No
In-room computer data port: No.
Wheelchair accessible rooms: Yes
RV park: Yes, 84 spaces. $16 a night every night.
Children allowed in hotel: Yes. No one under the age of 21 is allowed in Las Vegas casinos.
Child care facilities: No
Pets allowed: No
Room service: Yes
Shuttle Service: No
Amenities: RV Park, Bowling Center offers 106 championship lanes, rooms feature coffee machine, satellite TV and Nintendo 64